What is Transhumanism? A Network Analysis of Wikipedia Pages
16 Sep 2015
Transhumanism is a topic I'm passionate about. I believe technology has great power and potential change the human condition (even given technology's inherent risks). Often times I get asked, "So, what is transhumanism?" While I'm sure not all transhumanists agree on a single definition, one of the most concise definitions I use is, "The belief that technology can not only improve the human condition but fundamentally change it."
Another way to understand transhumanism (or any topic for that matter) is to start at its Wikipedia article and just start browsing. The disadvantage to this, however, is that there's simply too much information to for someone to practically browse. What is needed is a map of sorts. While Wikipedia does have topic pages which help, sometimes a map that has done the browsing for you can provide additional navigational insights. This is exactly what network analysis can do.
Methodology
For this analysis I used a web crawler I've written which can take a number of starting HTML pages, a description of how to traverse their links, and a maximum depth to traverse. I started at the transhumanism Wikipedia article and chose a max depth of 3. As my program crawled the Wikipedia articles and their links, it constructed what that network of links and pages looked like.
The result is ~23,000 pages and ~41,000 links. I filtered the network down by removing Wikipedia pages frequently linked to like help pages and pages used by administrators to identify pages which are in need of revision. I also filtered out pages only linked to once biasing the analysis towards pages which are more connected in the network. After filtering, I had ~5000 pages and ~26,000 links.
This would be a daunting task for someone to read through who just wants an informed idea of what transhumanism is. This is where network analysis comes in. Once I had this dataset, I ran a degree analysis which measures how many links (in or out) each page has. I then ran a community detection algorithm which finds groups of pages which are more interconnected with each other than the rest of the network.
Having done these analysis, we can now begin to answer questions like:
What larger topics does transhumanism entail?
What are key philosophies referenced?
Who are key people and groups active in transhumanism?
Answering these questions can give someone an edge on quickly learning about transhumanism over someone just pointed at the transhumanism Wikipedia article and left to themselves.
As a note, this data was acquired in early 2015. Current Wikipedia pages may have different links.
What topics does transhumanism entail?
First off, here's the image of the network. It is colored by the communities that were detected and nodes are sized based on the number of links pointing to them.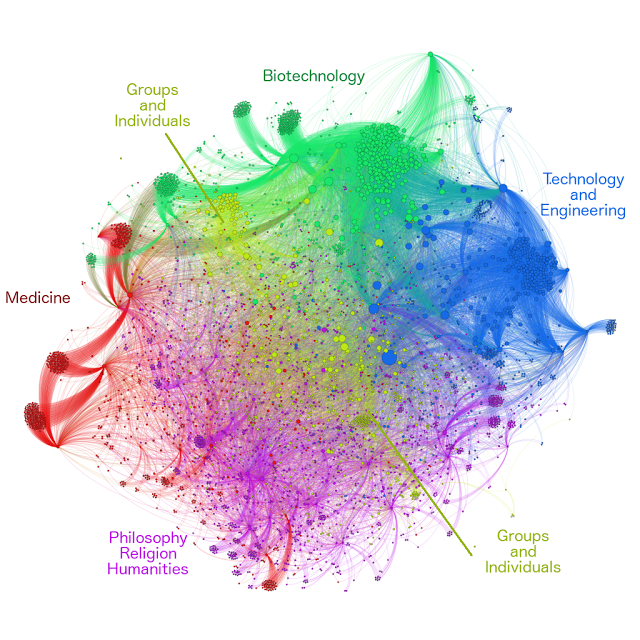 Community detection is a bit of an art. You tune the sensitivity of the detection until it forms meaningful groups. Too sensitive and the groups loose any meaning or significance. Not sensitive enough and it becomes unaware of obvious groupings. I labeled each community by looking at the overall theme consistent with most of the vast majority of members in that community.
And taking the titles of the articles, here's a word cloud: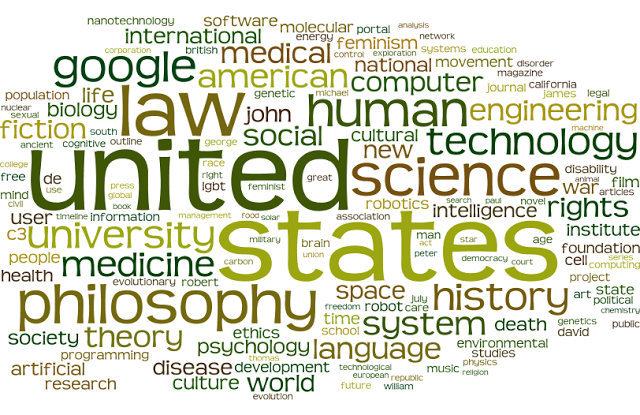 Finally, we can look at what pages have the most links into them:
So, if you want a high-level idea of transhumanism, these graphs and topics should get you off to a good start.
What are the key philosophies referenced?
The above might give you an idea of the "What?" in transhumanism. But answering this question will help you understand the "Why?" motivating transhumanism. Of course, not all transhumanists share all the same motivations as all other transhumanists. But these provide some outline to the philosophies driving transhumanism today. I break this into lists of the top most referenced "-isms" and "-ologies" pages surrounding transhumanism. I include brief definitions in these lists so readers can get a feel for the taxonomy of transhumanism:
-isms
(non technology) -ologies:
Who are key people and groups active in transhumanism?
Finally, it's important to ask the "Who?" questions. I break this into individuals and groups (again sorted by the number of times they are linked to--descending):
Individuals
Groups
Conclusion
This is just an overview of some of the insights gained through a network analysis of Transhumanism and surrounding pages on Wikipedia. But overall, I feel the findings resonated with the intuition I've gained about the shape and contours of transhumanism: a melding of science, technology, medicine, biology, and informed by the philosophical, political, and religious sentiments of humanity as we look into the future. And certainly these lists of Wikipedia pages selected because of their relevance are much more manageable and fruitful to browse than the thousands we were initially faced with.
But this is only a map. You have to begin exploring it in order to discover and understand transhumanism yourself.