Christmas Movie Network
25 Dec 2014
Top 100 Christmas Movies
For this simple visualization, I used a popular user list on IMDb: The Top 100 Christmas movies of all-time. Whether these are "the" top movies or not is a matter of taste, but it has a large number of my own personal favorites, so it works for me. If you sort by IMDb rating, the top items make up a petty solid list. The author does seem to include movies that merely use Christmas as a time or setting vs. some other lists which are more strict where Christmas plays a major part in the plot.
Actor Collaboration Graphs
I wrote a tool that can crawl websites and construct graphs from their link topology. I used this same tool to create an actor collaboration graph for Robin Williams' career. A quick copy and edit of a configuration file, and I was able to run this to generate this graph.
The Graph
There are 3976 actors/actresses in this dataset.
I decided to be more "artistic" with this graph. I used a Force Atlas layout and configured it to dissuade hubs. This pushed the movie nodes out towards the edges with the actor nodes remaining towards the center (at least towards the beginning of the layout). I then did a community detection and colored the different communities (with each movie being it's own community) to have a blue/white shade--going for a ice-winter theme. The overall effect makes it look like a snowflake or blue-ish star.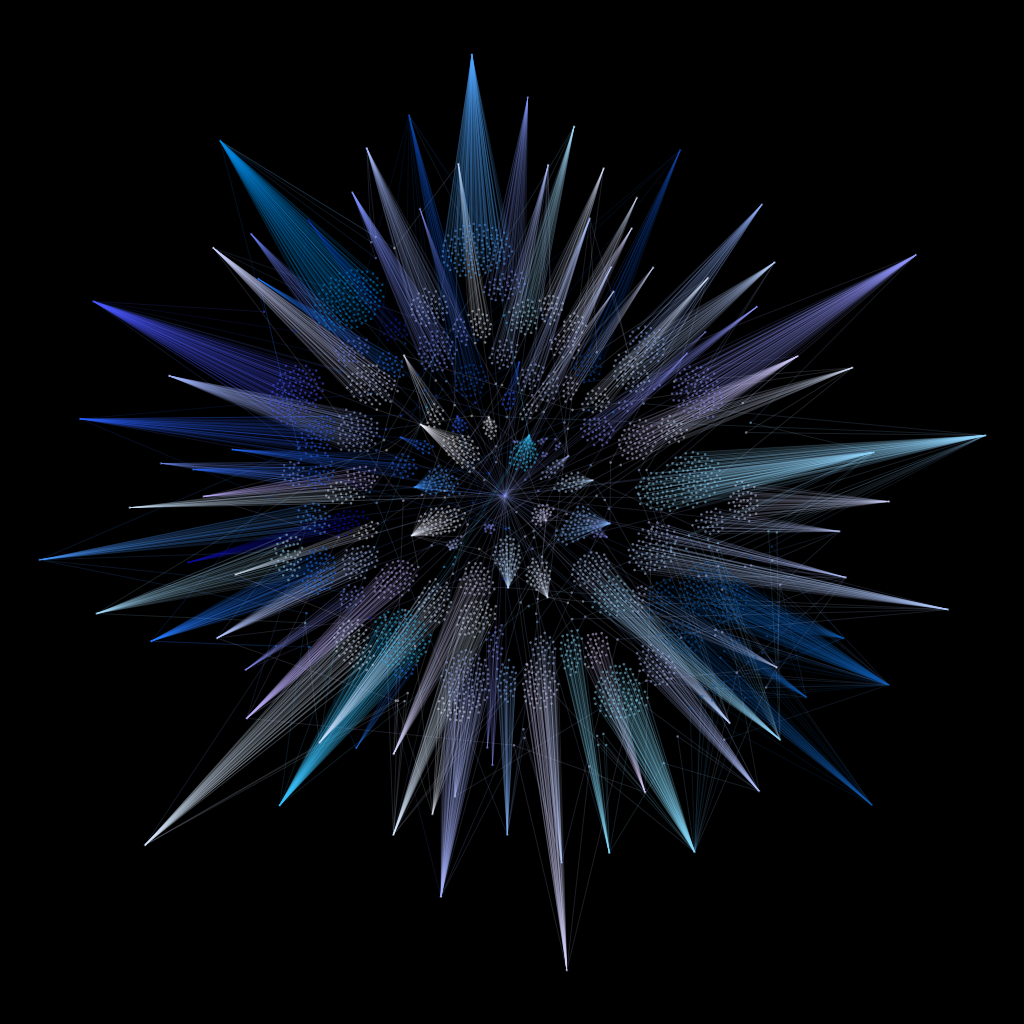 Here's an SVG with labels (sorry, I didn't spend time making sure they were all neatly spaced).
Top Connector
There is one actress that is more connected in this network than any other: Sarah Edwards.
Sarah Edwards was born on October 11, 1881 in Glyn Train, Denbighshire, South Wales, UK. She was an actress, known for It's a Wonderful Life (1946), The Shop Around the Corner (1940) and The Bishop's Wife (1947). She died on January 7, 1965 in Hollywood, Los Angeles, California, USA.
What's interesting is that she played secondary or even extra roles. In this dataset, here are her appearances:
There are many actors/actresses that appeared in 3 different movies: Brick Sullivan, June Foray, Catherine O'Hara, Ruth Warren, Rhonda McLean, David Sparrow, Almira Sessions, Peter Billingsley, Richard Fitzpatrick, Matt Walsh, Selma Archerd, Mary Ellen Trainor, Charles Arnt, Mike Donovan, Mary Steenburgen, Paul Frees, Brooks Benedict, Henry Brown, Marcia Bennett.
Season's Greetings
This was just a quick exercise to do over the holiday (especially after not posting for a couple weeks after being on vacation). I hope everyone has a happy holiday and takes time to contemplate this time of peace and goodwill.